Memorial Day is supposed to be a chance for the American People to honor those members of the armed forces who have died in combat. Although the day is intended to remind Americans that freedom was secured with the blood of others, it exists only to refresh our memory on an annual basis. The Free Peoples of the world need to contemplate and appreciate, on a daily basis, the reasons we enjoy so many freedoms. When considering all those men and women who survived war, yet put their lives on hold to fight on behalf of their countrymen, it is also necessary to reflect on the cost of their service.

​

The US military offers rewarding careers, including a comfortable salary and generous retirement packages, to many, but many more, whose service comes at the cost of missed opportunities, are not so well compensated. Others leave the military with physical and psychological scars that make it difficult for them to build, as well as sustain, quality lifestyles and healthy relationships. Even if they overcome these barriers, their experience from the service often does not help them in the civilian labor market. Just like older workers, college graduates lacking "relevant experience," the long-term employed, and numerous other demographics, vets can easily be victims of a "disqualified" mentality.
Powered by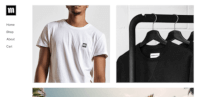 Create your own unique website with customizable templates.