2017 ushers in a new era with the realization that the rules in politics and international affairs have been steadily changing over the course of several decades. As those working in the political industries of the world struggle to realign themselves into position that will be favorable, they fail to grasp the nature of change that they have long resisted. In large part, it is because change threatens the wealth and power of those who benefit the most from the status quo. It is also because the affluent and influential have been able to hide from the need for change by ignoring and discrediting change agents so long that they no longer know how to change. More importantly, it is because change requires them to risk their wealth and power.

The US, which happens to be the world's only superpower and happens to influence the policies of all countries, expects great change, for better or worse, under President Donald Trump. Like once-inexperienced President Barack Obama, who campaigned on a "change" mantra, yet tended to defer to public and foreign policy precedent, Trump is a change agent who will shake things up in certain areas, neglect the need for change in others, and push regression in other areas that were changed for the better. Having campaigned as anti-Obama, Trump is expected to initially embrace the inverse of Obama, which means rejecting traditional Republican stances as well. Trump is not, however, likely to maintain his anti-Obama, anti-Washington status while he is fated to become a transitional leader in a much larger campaign for change.
Powered by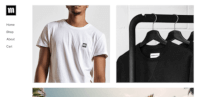 Create your own unique website with customizable templates.