Among a stream of Thanksgiving tweets that criticized the United States,

Iranian Supreme Leader Ayatollah Ali Khamenei

proclaimed the Ferguson protests over the killing of Michael Brown by police officer Darren Wilson demonstrated what is wrong with America.

Although the United States certainly does have a multitude of issues, the Ferguson protests both shine a light on those problems and highlight some of America's strengths. More importantly, it also demonstrates some universal themes that a growing number of protests around the world share.

Looking back at the 2009 Iranian Green Revolution, it is only fair say to Ayatollah Khamenei must consider free speech and a failure to suppress dissent with a brutal, deadly crackdown to be a problem. Where Ferguson police and outside support took a heavy-handed, unresponsive approach when dealing with protesters in Ferguson, the challenges that face protesters in places like Iran are far more frightening.

When it comes to the Hong Kong Umbrella Revolution, for example, protesters are increasingly desperate to keep their movement alive, because the Chinese government does not serve the interests of the Hong Kong People or the Chinese Peoples. Unless Umbrella Revolutionaries represent a serious, well-entrenched threat, the Communist Party has no need to respect their demands.

More importantly, protesters need to keep their movement strong in order to protect participants who could face anything from financial ruin to threats to their wellbeing; henceforth, the reason they are willing to

engage in violent

and far disruptive demonstrations.

Unfortunately, the hazards faced by protesters in Hong Kong and Iran are far from uncommon as was seen during, and after, the Arab Spring Revolutions. Where the Occupy Wall Street protests, as well as other Occupy protests inside the United States, and protests surrounding the Eurozone Debt Crisis, resulted in few changes, those voicing their outrage over the harmful decisions of the powerful did so knowing there would be few serious, permanent consequences of any kind.

Unlike the West, much of the world lacks the well-established legal rights necessary to make the right to protest a fundamental part of their culture. Perhaps more importantly, violence during the Labor Movement and the Civil Liberties Movement helped create factions within the American society that today still provide a fair amount of protection to dissenters. As such, violence on behalf the police is seen as equally wrong as violence on behalf of protesters.

That said, a growing number of protests around the world over the past decade in response to a number of basic social issues seem to be doing little good. Considering Egypt, massive protests were able to oust dictator President Hosni Mubarak with the support of the military, yet subsequent events suggest the military only intended to lure protesters into a false sense of victory as they quietly reestablished their authority. Only if President, former head of the Egyptian Armed Forces, Abdel Fattah el-Sisi decides to give up power will Egyptian protesters truly see a victory for democracy.

Unfortunately, the West faces a similar, less obvious dynamic. Since the Great Recession, the United States has seen a number of nationally recognized protests and political movements attempting to address growing economic disparity with little change. A large part of the problem is a lack of leadership shared by almost all major protects due to an inherent distrust in leadership and uncertain goals.

Without strong representation and clear policy objectives, the reality is that those in power, who benefit from the status quo and have little incentive to develop solutions to protester demands, are going to resist change instead of supporting it.

As the business manager for the St. Louis Police Officers Association Jeff Roorda demonstrated in his comments aimed at disarming calls for changes in how police operate across America, among others including Rudy Giuliani, the concerns of protesters are often undetermined in order to disqualify and neglect them.

In the case of Ferguson, the Ferguson police clearly need improvement while the broader issue with the police and black communities is a lack of respect and trust. People need to feel the police are in their communities to protect and serve them, not treat everyone in the neighbor as a condemned criminal. In other words, police need to build better relationships with the people they serve.

More and more protests are being seen around, because the needs and wants of too many people are being neglected. While some protesters face far more serious hazards for expressing their interests than others, protests are not yielding the results people hoped they would.

Politics and the legal system exist to address the neglects interests of people, so they do not resort to violence. As Ferguson and the Hong Kong protests recently, the mounting failures of the political system and Law to address the interests of People around the world encourages greater use of violence.
Powered by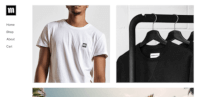 Create your own unique website with customizable templates.