If you wish to defeat the devil, you must untwist the anger, despair, and pain of Satan the demon to discover the beauty of Lucifer the angel.

The retirement of Pope Benedict XVI comes as the Catholic Church continues to struggle with a global child sex abuse scandal along with a multitude of other issues in a rapidly changing world where social institutes of the old world are fighting to redefine themselves . Unfortunately, one of the world's most influential religions will not be able to repair its marred imagine until it can purify its soul. The scandal came into existence, because the clergy decided to act politically to cover up the actions of priests that could have damaged the Church's image. It is the perversion of the religious institution with political thinking that resulted in the cover up of these heinous crimes and a thorough violation of the Catholic teachings. This is not the first time the Catholic Church has been corrupted by an unholy blending of doctrines as the Dark Ages came into existence, because the Church consolidated its religious authority with the power of governance and all other forms of social influence. During World War II, efforts to resolve the differences between the objective, scientific mode of thinking, Catholicism, socialism, Nihilism, existentialism, and other philosophies lead to a convoluted world vision where people no longer concerned themselves with the consequences of their actions. By rationalizing and legitimizing German superiority, the Nazis used the Frankenstein philosophy of the time to dehumanize the Jews and other non-Arian races, i.e. no moral or human consequences. (This lack of social responsibility then migrated to the United States by the late 1950's and we are still struggling to overcome its ill-effects.) Moreover, the Catholic Church must find a means of transcending the political culture it has embraced, so it can overcome its demons and act as a righteous institute; otherwise, the world will be haunted by its politically motivated sins for decades and centuries to come.
Powered by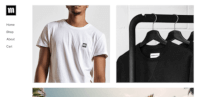 Create your own unique website with customizable templates.